This contest is now over. Look for winners on Facebook and Twitter on Tuesday, April 7th, 2015. Thank you to all who participated on a cold Easter weekend!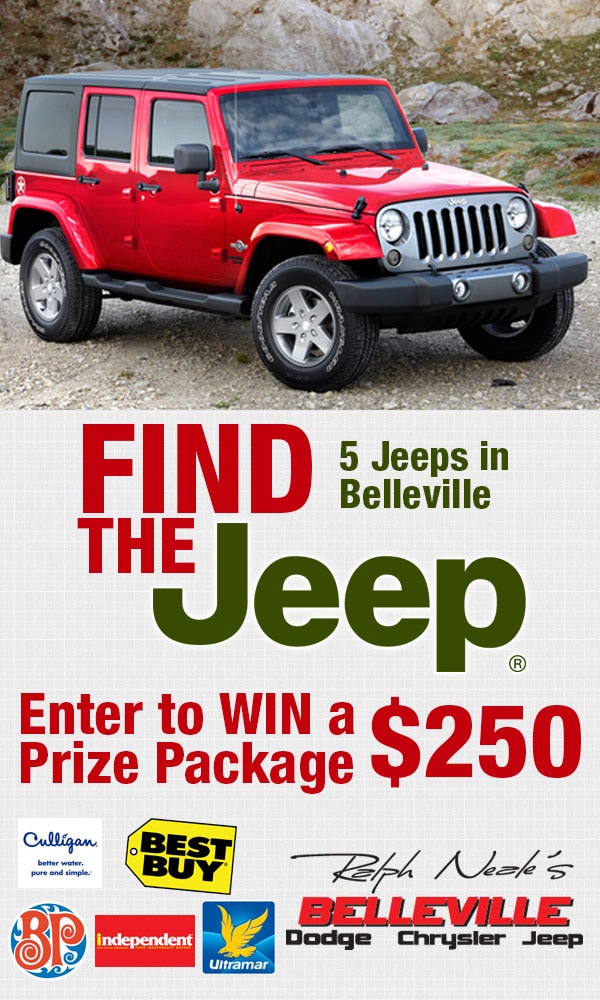 EASTER JEEP HUNT IN BELLEVILLE
April 3rd, 4th, 5th 2015
FIND ALL 5 JEEPS AND BE ENTERED TO WIN A PRIZE PACKAGE WORTH $250
IN THE SPIRIT OF EASTER we have partnered with some local businesses to offer a prize package worth $250 to one person who can find all 5 JEEP Wrangler's.
How to Enter:
Hint:
All Jeeps are on the properties of our partner businesses.
Conditions: All photos must clearly show the Belleville Dodge decal on the front windshield. Winner will be randomly chosen from all entrants that successfully provide 1 photo of each Jeep by Monday, April 6th, 2015 at 5:00 pm EST. Winner will be announced on Facebook, Twitter and Ralph Neale's "The Real Deal" E-Newsletter on the Tuesday, April 7th, 2015. The winner receives a prize package worth $250.
Actual JEEPS pictured below.