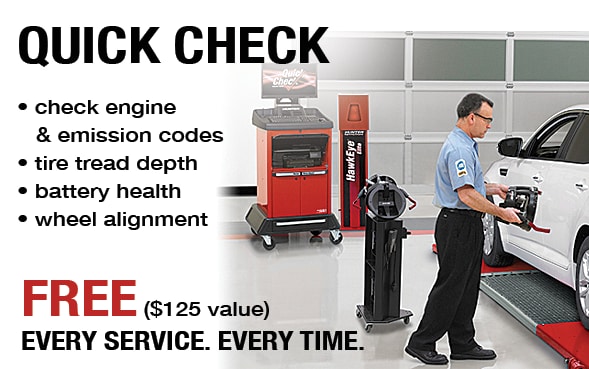 Did you know that the 3 Minute Vehicle Inspection is Complimentary with every Service Appointment at Belleville Dodge? Using Hunter's Quick Check Vehicle Inspection System you can be rest assured that your vehicle has been checked for the following:
check engine & emission codes
tire tread depth
battery health
wheel alignment
Hunter's revolutionary Quick Check vehicle inspection system provides a full car inspection in just three minutes! This 3 minute vehicle inspection checks emission codes, tire tread depth, battery health and wheel alignment. Emissions codes are pulled using Hunter's patented CodeLink tool, which connects to a vehicle's OBDII connector. The Quick Check vehicle inspection system uses Hunter's battery tester, which is a conductance based tester that checks battery health. Hunter's vehicle inspection system uses Hunter's patented tread depth gauge to check tread depth at one or three points per tire.
FREE ($125 value)
EVERY VISIT. EVERY TIME.